While updating Windows on your computer, are you getting the error code 0x800705b9? This article will guide you through various fixes for the error. Windows releases updates to its operating system regularly to repair bugs, add new features, and enhance security. All you have to do to take advantage of these updates is update Windows on your computer, which is quite simple and doesn't require any technical expertise.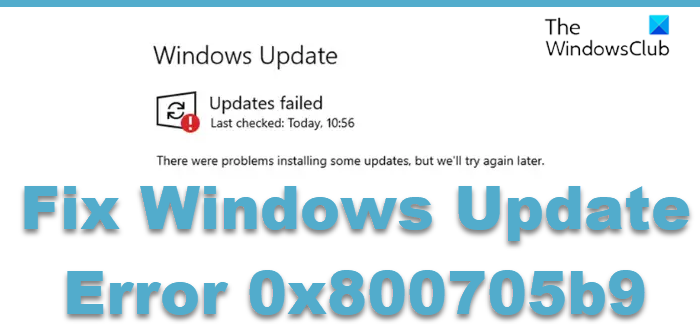 However, one of the numerous reasons Windows users don't update Windows on their computer is the 0x800705b9 error, one of the common Windows Update errors. The 0x800705b9 shows up while updating Windows on your computer and prevents you from using the most recent Windows features. Fortunately, there are solutions you can attempt to resolve this issue and allow Windows update on your computer.
Common causes of the Windows Update 0x800705b9
Several variables could lead to getting the Windows Update Error 0x800705b9 on your computer, but the major ones include:
Corrupt System Files: Windows Update process requires some system files to perform successfully, but if these system files are corrupt or damaged, you may start getting the error code 0x800705b9 while updating Windows.
Issue With Update Service: The functioning of Windows Update on your computer is managed by the Windows Update Service and related services. As a result, if there is a problem with these services, it may also interfere with Windows update on your computer.
Those are the probable reasons for this problem with system file corruption being the major cause. Based on the factors we just covered and what has worked for users who has also experienced the error, we have also come up with fixes for this problem, and we will go over them in the section that follows.
You need to use the built-in DISM tool to replace damaged or missing Windows Update files. This built-in tool scans your Windows computer for inconsistencies, which may be caused by various hardware failures or by software issues and potentially fix that corruption.  In the case of system inconsistencies and corruption, you can use the Deployment Imaging and Servicing Management (DISM) tool to update the files and correct the problem.
How to Fix Windows Update Error 0x800705b9 in Windows 11
If you ever experience the 0x800705b9 error while updating Windows on your computer, below are proven solutions to fix it:
Run Windows Update Troubleshooter
Run DISM Tool to repair Windows Update component store
Check Windows Update related Services status
Update Windows in Clean Boot State
Download the Update manually.
Before you proceed, restart your computer and your router and see.
1] Run Windows Update Troubleshooter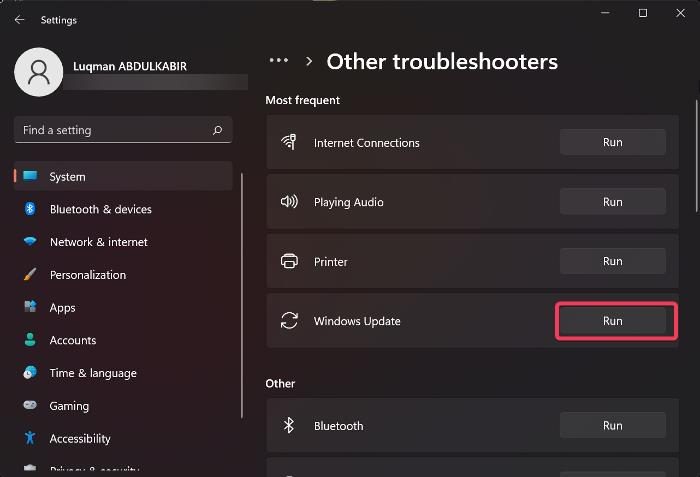 Windows has a built-in function that can help troubleshoot issues related to Windows updates. By running this function, you may be able to identify and fix the 0x800705b9 error on your Windows computer. The following are the steps to run the Windows Update Troubleshooter:
Press Windows + I to open Settings on your computer.
Select System on the left pane and then click on Troubleshoot on the right pane.
Tap on Other troubleshooters.
In front of the Windows Update option, click on Run.
2] Run DISM Tool to repair Windows Update component store
Open an elevated command prompt, type the following and hit Enter to run the DISM Tool.
dism

.exe /online /cleanup-image /scanhealth
Once the operation completes successfully, type the following, and hit Enter.
dism

.exe /online /cleanup-image /restorehealth
Restart your computer and run Windows Update again.
However, if your Windows Update client is already broken, you will be prompted to use a running Windows installation as the repair source or use a Windows side-by-side folder from a network share, as the source of the files.
You will then be required to run the following command instead:
DISM.exe /Online /Cleanup-Image /RestoreHealth /Source:C:\RepairSource\Windows /LimitAccess

Here you have to replace the C:\RepairSource\Windows placeholder with the location of your repair source.
Once the process is complete, DISM will create a log file in %windir%/Logs/CBS/CBS.log and capture any issues that the tool finds or fixes.
Close the command prompt, and then run Windows Update to see if it has helped.
3] Check Windows Update related Services status
Open Windows Services Manager and check the Windows Update related Services like Windows Update, Windows Update Medic, Update Orchestrator Services, etc are not disabled.
The default configuration on a standalone Windows 11/10 PC is as follows:
Windows Update Service – Manual (Triggered)
Windows Update Medic Services – Manual
Cryptographic Services – Automatic
Background Intelligent Transfer Service – Manual
DCOM Server Process Launcher – Automatic
RPC Endpoint Mapper –  Automatic
Windows Installer – Manual.
This will ensure that the required Services are available.
Apart from the direct service, you should find the dependencies of Windows Update service and ensure if they are running or not.
4] Update Windows in Clean Boot State
Several processes or software on your computer may be preventing Windows update from working properly and resulting in the 0x800705b9 error.
To figure out what is causing the issue, you can perform a clean boot and manually disable each component one by one. After that, you can uninstall the program from your computer to completely fix the problem.
5] Download the Update manually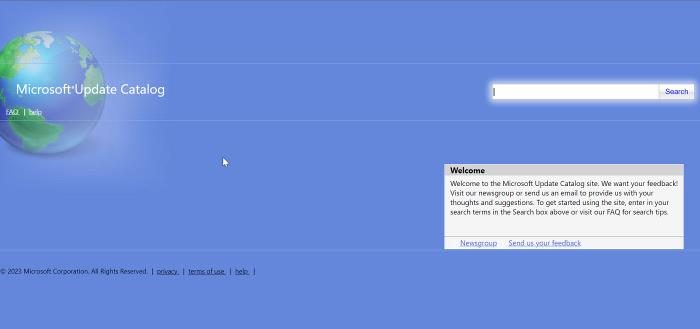 If you are unable to fix this error with the solution above, you could manually install the update by following the steps below:
Press Windows + I to open Settings.
Click on Windows Update on the left pane.
Select Update history and note the KB update name that you could not install due to the 0x800705b9 error.
Now visit Microsoft Update Catalog website.
Click on the website's Search menu, type the KB update name you noted earlier, and press Enter.
Select the Download button next to KB update with specifications matching your computer.
After the download completes, go to File Explorer and double-click the downloaded file to install it.
Then follow the on-screen prompts to complete the installation process.
Read: Fix 0x800F081F Windows Update Error
How do I update Windows 11 on my computer?
If you want to update Windows 11 on your computer, follow the steps below:
Press the Windows + I keys to open Settings on your computer.
Then click on Windows Update.
On the Windows Update page, you'll see if there are any available updates. If there are, follow the prompts to install them.
Do I need internet connection to update Windows?
The installation of Windows updates on your computer does, in fact, require an internet connection. This is due to the fact that the updates must be downloaded from the internet. Moreover, you should use a fast internet connection when updating Windows to avoid running into errors like the 0x800705b9 issue, which will cause the update to fail. However, there are ways to update Windows offline without an Internet connection.