If you have McAfee VPN in McAfee LiveSafe, McAfee Antivirus Plus, McAfee Total Protection or the McAfee Safe Connect installed on your Windows 11 or Windows 10 computer. Still, if you notice the VPN is not working or you're having connection issues, then this post is intended to help you with solutions to these issues.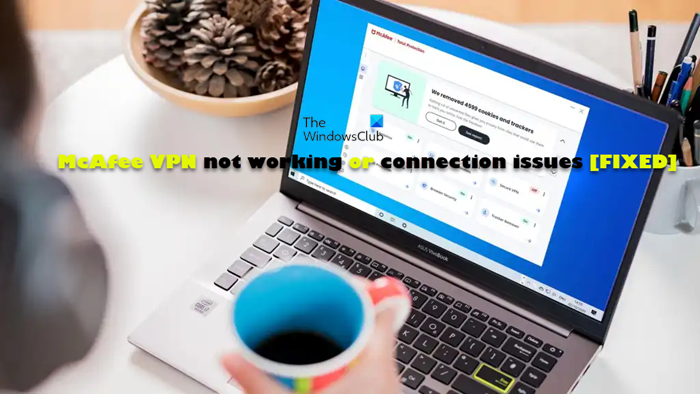 You'll encounter the same errors on all McAfee products that include VPN functionality — at their core, all these variants share the same VPN engine. When you're unable to connect to the internet through McAfee VPN and the connection fails or when you click the VPN Settings or Action Center slide, you might see one of the following error messages:
We can't connect to VPN right now.
There's no internet connection.
Oops! Something went wrong.
There might be a problem with your TAP driver.
You might have reached your 5-device limit.
You're just a few clicks away from safer Wi-Fi.
Install Microsoft .NET.
We can't connect to VPN. Your antivirus or firewall might be blocking VPN.
You're likely to encounter these error messages and issues due to the following most common reasons:
Bad Internet connection where your network is down or fluctuating or intermittent.
Conflicting apps where your security software (antivirus or firewall) might block your VPN software.
Your VPN service may be down or the server you are on is down, or worse, the entire VPN client.
The network adapter driver on your PC is outdated or corrupted.
Fix McAfee VPN not working or connection issues
If your McAfee VPN is not working or you're having connection issues via the software on your Windows 11/10 PC, then the suggestions for general and specific issues, errors, and problems below can help you resolve the issue on your system. If you're based in India or Hong Kong, the India virtual server or the Hong Kong server is removed from McAfee VPN products. This means users will not be able to access McAfee's VPN services while physically located in India or be able to access an India server from any location. For users in Hong Kong, as an alternative, and if your ISP allows, try using other virtual connections such as Japan or Singapore.
General Troubleshooting
Make sure that you have a good, stable connection to the internet.
Make sure that your McAfee VPN is updated to the latest version on your PC.
Change to a different server to be assigned a different IP address McAfee has stopped working all of a sudden because it could be that the IP address assigned to your device by the VPN has been identified and blocked by the website or app you're trying to visit.
Verify that a firewall app or other VPN app is not conflicting with your McAfee VPN. If you have another security product or VPN installed, either uninstall or temporarily disable them.
Test another network by connecting to the VPN on another network to determine if the issue is with your network
In your VPN app, turn off protection, then open Device Manager and check if there are any yellow exclamation marks on your network adapters. If there are any, then see if the suggestions in the guide on how to fix Network Adapter Code 31 error
Reinstall the McAfee VPN to have a fresh installation, erasing any problems on your device.
Read: Common VPN error codes and solutions for Windows
McAfee VPN error messages with Fixes
The following are some of the error messages (with the applicable fix) PC users may encounter while using the McAfee VPN on their Windows 11/10 device.
There might be a problem with your TAP driver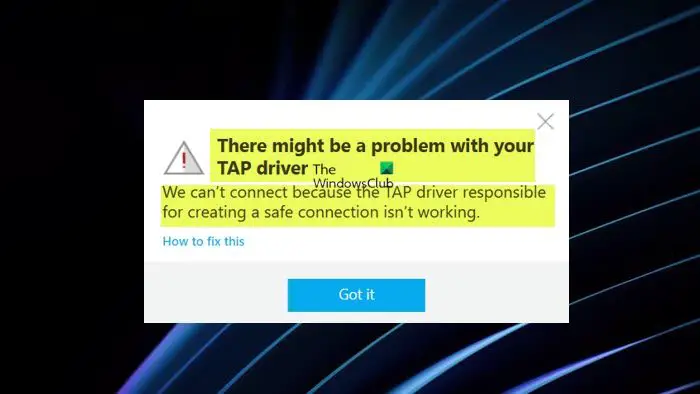 You may get the full error message below when you attempt to use McAfee Safe Connect on your Windows 11/10 computer to connect to a virtual location.
There might be a problem with your TAP driver
We can't connect because the TAP driver responsible for creating a safe connection isn't working.
To resolve the issue, you need to check in Device Manager under the Network adapters section to see if there's any yellow exclamation mark on the TAP driver. If there is, then you need to uninstall the driver, and afterward, uninstall Safe Connect, restart your PC, and reinstall Safe Connect.
Read: There are no TAP-Windows adapters installed on this system
You're just a few clicks away from safer Wi-Fi
You will encounter this error if the McAfee Auto-Renewal feature is disabled. The applicable fix, in this case, is If your McAfee software has VPN, you need to toggle on Auto Renewal to use VPN on your Windows device.
We can't connect to VPN right now
You will receive this error message due to internet connectivity issues on your PC. In this case scenario, you need to check your internet connection and fix Network and Internet connection problems on your device. In the event your computer cannot connect to the Internet at all, you can use the Network Reset feature and see if that helps. In addition, you can run the inbuilt Internet Connections Troubleshooter for Windows 11/10.
You might have reached your 5-device limit
This error message is quite descriptive and has to do with the software license. You will get this error when you try to add more devices than your license limit allows. To resolve this issue, you must remove an existing trusted device so that you can add another device.
To remove a trusted device, follow these steps:
Open the LiveSafe or Total Protection console.
Click the Secure VPN tile at the bottom of the Home tab.
Click VPN settings.
Click the X icon corresponding to the device, and then click Remove.
If you want to remove the current device, click the X icon, and then click Turn off VPN and remove.
Repeat these steps for any other devices that you no longer want to be registered. After you remove at least one device, you can then add another device. As an alternative, you may want to upgrade your license for more devices.
Install Microsoft .NET
This is yet another descriptive error message which you're likely to encounter if your Windows 11/10 computer has an outdated Microsoft .NET Framework installed. To resolve this issue, you're required to update your Microsoft .NET Framework to 4.6.1 or later.
Read: Microsoft .NET Framework Repair Tool will fix problems & issues
We can't connect to VPN. Your antivirus or firewall might be blocking VPN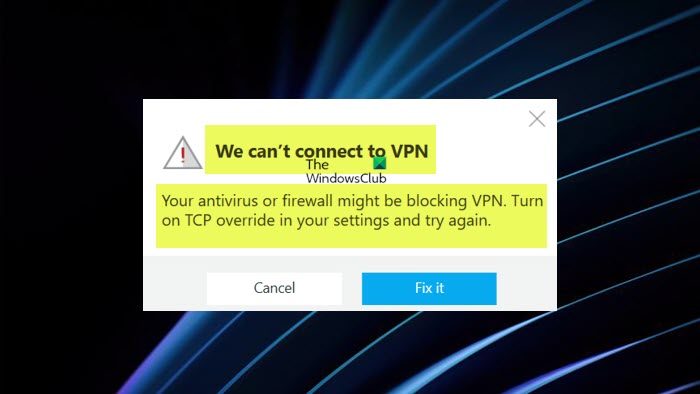 You'll get the full error message below prompting you to turn on TCP override in the settings menu when you try to connect to the internet with McAfee Safe Connect.
We can't connect to VPN
Your antivirus or firewall might be blocking VPN. Turn on TCP override in your settings and try again.
When you receive this message, simply click the Fix it button, then do the following:
On the Settings page, look for TCP Override in the middle of the screen.
Now, click to toggle the button on the right side to turn on TCP Override.
TCP Override (Transmission Control Protocol Override) advanced setting (turned off by default) in Safe Connect forces the desktop app to use a slightly slower, but more reliable method (or 'tunneling protocol') to transmit data over the internet which results in a more stable connection on an unreliable network connection which you'll find useful when you perform activities such as payment transactions, or while you use your banking websites.
If you experience any of the following issues while using Safe Connect on your PC, you can turn off the feature.
The overall internet connection is 'choppy'.
Your Internet Service Provider is throttling (slowing down) or even blocking UDP traffic.
Your Internet Service Provider is experiencing technical difficulties.
PC users have the option to manually turn on TCP Override because certain Antivirus or Firewall settings on your computer might block internet access through UDP which is by default, the communications protocol used by Safe Connect.
Read: Firewall or Antivirus is Blocking VPN on Windows 11
Additional Troubleshooting
1] If you are connected to the internet via the McAfee VPN on your PC, but the connection is slow, you can run an internet speed test to check your internet connection. In addition, you can try turning off/on your connection in the VPN so that the VPN can search for a new and faster secure server to 'tunnel' your data through. Afterward, wait a few seconds before you try to access the site or service again.
The reduction in speed which you will notice while using the VPN is due to your data traveling through additional, secure servers. That said, you can still attempt to fix slow Internet speed on Windows 11/10 computer while using VPN which can be caused by the following reasons:
Geographic location
Your ISP or country's Government restriction
Other VPN services
Third-party apps
Enable TCP Override (Safe Connect on Windows only)
Read: Fix VPN Error 800, Remote connection was not made because the attempted VPN tunnels failed
2] You may encounter issues with streaming services including Netflix, Amazon Prime Video, and Hulu – also, torrent websites or apps if you use the McAfee VPN. These affected streaming services or apps block access to their content once they detect a VPN, proxy, or 'unblocker' service in use.  To resolve the issue in this case, if you're using Safe Connect, do either of the following:
First, turn off Safe Connect and try the streaming website or app again. If the issue persists even after turning off Safe Connect, then sign into your premium account in Safe Connect on your PC, turn on protection in the app, and select a Virtual Location based on the content you want to access. For example, to access a streaming service in the U.S., select the US virtual location. Verify that your IP address reflects the Virtual Location at findipinfo.com and then try to access the website again.
Turn off protection in Safe Connect, and then clear your browser's cookies. Once done, turn on protection again in Safe Connect, restart your browser, and try to access the content again.
If the steps above weren't helpful, you can try switching to another Virtual Location, and then back to the appropriate one to connect you to a different server.
For other McAfee VPN products, you can turn off the VPN service and then try the streaming service or app again. If the issue persists even after turning off the McAfee VPN, check to confirm that no other VPN services are running on your windows 11/10 device.
Hopefully, this post helps you.
Why does McAfee VPN take so long to connect?
This usually happens because the internet connection becomes dependent on the speed of the cell phone network. Also, if you're running more than one VPN service at a time on your device, you're likely to experience this issue. In this case, you can try disabling or completely uninstalling similar VPN software on your PC before using your McAfee VPN app.
Read: Fix Internet gets disconnected when VPN connects
Why is McAfee blocking so many connections?
In your McAfee software, you might see large amounts of blocked connections in your Security History. This indicates your device is protected and kept safe as the Firewall has blocked any suspicious connections. If the connection or app that has been blocked is 'trusted', you can allow the app via the firewall settings in your McAfee software.